Beaver Colony
Thanks to all of the parents and guardians who got 58 of our young people to the VE Day Commemoration in the Village today. In case you were wondering, 1st Washington Scout Group were the only Scout Group invited to take part, as we affiliated to the RBL Washington Branch earlier this year. A Group photo was taken and will be available from Jess by e-mail. Isabella presented the cornflower on behalf of the Group and Faith and Spencer collected the commemorative plaque on behalf of their school (St John Boste RC Primary). Thanks again to all of you who turned out and to those who gave their apologies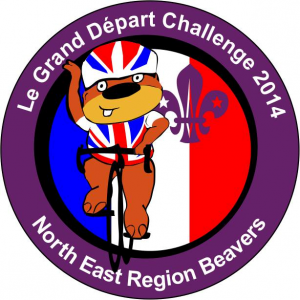 As you may know the Tour de France starts in Yorkshire this year.  The bods at Regional Beavers set us a challenge to do some French themed activities to get this badge.  So last Thursday, tous nous nous sommes habillés dans vetements en Rouge, Blanc et Bleu. Nous avons peint Tricoleurs français, avons joué boule dans le jardin, tous avons appris à dire Bonjour et avons essayé une nourriture française – du pain, du vin (pas vraiment) du fromage (le camembert et le brie), du pain au chocolat et des croissants (we all dressed in Red White and Blue.  We painted French Tricoleurs, played boule in the garden, all learned to say Bonjour and tried some French food – bread, wine (not really) cheese (camembert et brie), pain au chocolat and croissants.  Pictures to follow.  Badges on the right cuff please.
We visited Washington Community Fire Station this week to complete the final part of our Friendship Challenge badge which we have been steadily working towards.
Andrew , the Fire Station Watch Manager, was fantastic at explaining to our Beavers the role of the Fire Crew and the kind of work that they did.
Several crew members kindly showed us all of the equipment Firefighters use on the engine and the clothing needed to protect themselves when entering a fire. We have never known the Beavers to be so quiet!!
We toured the station, and all had a turn at firing the water hose!  An emergency call came through part way through the visit and the Beavers saw at first-hand how the Fire Crew spring into action to attend to a fire.  It was very exciting!!
I think we have several Beavers who would quite like to be Firefighters when they grow up after this visit 😉
We will be sending Thank You letters next colony meet to all at the Fire Station for such a fantastic & interesting experience.
Next week is our last colony meeting for the year, so lots of fun and games will be had, badges to be given and some goodbyes to be said.  We return in the first week the schools are back in September (Thursday).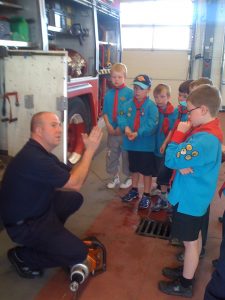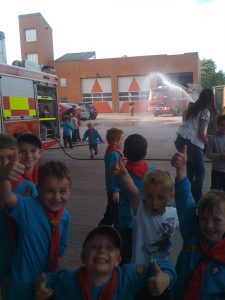 The much-promised (and long-awaited) water-fight night arrived tonight!!
The British weather was finally with us and after some last-minute texting and 100 water balloons from Leanne (thank you x), we were ready for action.
The boys paired up for 'Chicken', then grabbed their guns for all out war 😀  Everyone had a gun, some had what looked like Bazookas!!
Poor Alice was drenched with a bucket of water by Robin.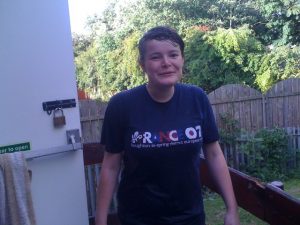 Earlier in the evening we learned about life in India and listened to an ancient story of generosity, whilst we tried lots of different Indian food, yum!
This forms part of our Friendship Challenge Badge, which will be completed with our planned visit to Washington Community Fire Station in mid-July (letters next week).
The Beavers who attended the Picnic a couple of weeks ago received their Explore Badges and we wished someone a Happy 7th Birthday, hurray!
Beavers discussed how the world may appear to them should they lose one of their 5 senses tonight and discussed some of the difficulties a person with disability may face.
We set up tables with activities designed to remove one of their senses, touch, sight etc and also looked at how we might use other methods to communicate with someone who had little/no speech, as well as how someone might mobilise using a wheelchair.
Alison showed the Boys how to communicate the Beaver Scout Promise in Makaton.
Robin demonstrated wheelies in the wheelchair and quickly discovered how much hard work this was on his arms.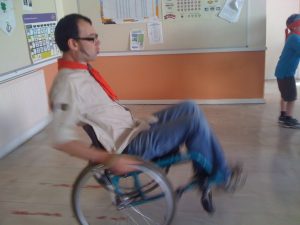 With sight occluded and a helper to assist them the Beavers had to navigate an obstacle course, which turned (as usual) into something akin to "It's a Knockout!"
We said goodbye to one of our Beavers scouts tonight and hope he has fun and adventures in Cubs 🙂
Finally, we ended the session making Fathers Day cards.
After a bit of a frantic start to get all forms signed and places confirmed (HUGE thanks to Alison who managed this in 4 days!!)
We set off for Staindrop to the Beavers Picnic with much excitement, a Banner and numerous requests to eat the packed lunches at 9.40am.
There was plenty of activities to do and many new friendships were formed amongst the Beavers.
The Beavers tried their hand at Archery, made numerous crafty things, had faces painted, bounced, pillow-warred and climbed all day long.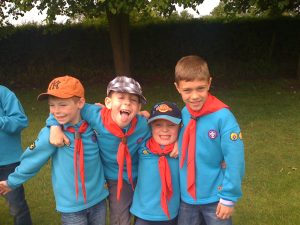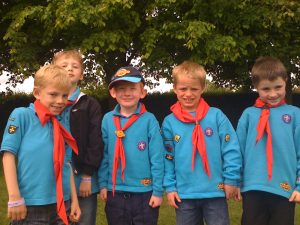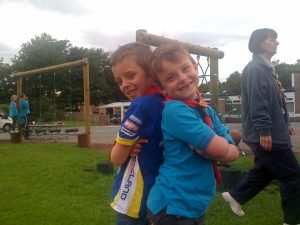 Dams FC took part in the 5-a-side District Football Tournament……..AND WON!!!!  Congratulations to the boys who took part 😀
There was a Banner Competition which was won by ………US!!!!!  Proud doesn't begin to express how we all felt receiving our trophy!  Well done to the whole Beaver troup who worked hard on the Banner.  It will hang on the Scout Hut wall on Thursday for photographs.
The day ended with a campfire, songs, presentations and our Promise, before packing up and heading home happy and exhausted x
Bring on next year!!